History
The Chapel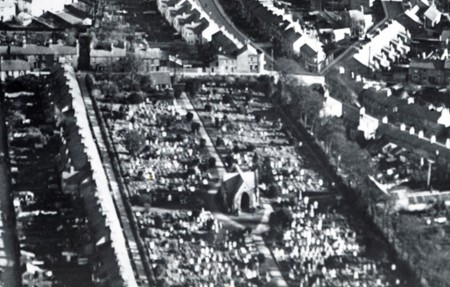 Aerial view of Cemetery showing Chapel c. 1930
The chapel was situated at the centre of the Cemetery. Described as ' in need of substantial repair' by a Council surveyor's report in 1957 it was demolished by the early 1960s. The description of the chapel in the Royal Commission on Historical Monuments report (pub. 1958) describes 'flint pebble walls and a roof of polygonal slates.' Lamb's designs were characterised by colourful glass, tiles and detailing all of which are also described in the report.
No record of the Chapel could be found until a postgraduate student working on a project related to the Cemetery discovered an aerial photograph of Chesterton taken in the late 1920s which includes the Cemetery and the Chapel.
The proximity of the Cemetery to St Luke's Church ( Church of England) in Victoria Road often gives the impression that they are associated. St Luke's was not consecrated until 1874 some 30 years after the Cemetery opened. Once its own burial spaces were used then the Church became one of the regular users of the Cemetery from about 1891.
back to top