Graves
>
Cambridge Lives
Alfredo Antunes Kanthack  M.D.  F.RC.P.    1863 – 1898



When he died age 35 Alfredo Kanthack was an eminent scholar with an international reputation who had recently been appointed to the new Chair in Pathology at the University. This was the time of rapidly expanding understanding of the mechanism of diseases when important work was being carried out across Europe by figures such as Joseph Lister and Louis Pasteur. Through his research and teaching Alfredo Kanthack provided a major contribution to this work.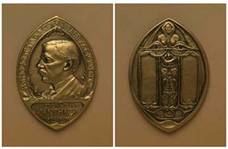 Born in Bahia, Brazil Alfredo spent his first six years in Brazil until his father's business took the family to Germany in 1869. He was a diligent but undistinguished student. It was only when his father moved to Liverpool in 1881 and Alfredo entered the Liverpool Medical School that his academic brilliance became apparent. He also discovered outdoor sports and in particular football which was to remain an abiding interest. By 1888 he had earned a string of degrees and was a Fellow of the Royal College of Surgeons. In 1890 he travelled to India as one of the Special Commissioners to investigate the prevalence and treatment of Leprosy. On his return his association with Cambridge began when he was awarded a research scholarship under Prof. Roy but he quickly moved on to the Liverpool Royal Infirmary where he set up a Bacteriological Laboratory. The splendid Kanthack medal (above) that has been awarded at Liverpool since 1900 for experimental pathology and microbiology reflects the importance of his work there.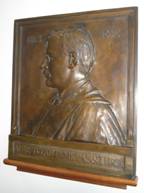 In 1893 Alfredo was appointed Director of the Pathology Department at St Bartholomew's Hospital and Medical School where he continued his research and teaching. Meanwhile in Cambridge Prof. Roy, who had been appointed to the new Chair in Pathology, was unwell and unable to take up the post. Alfredo was appointed as his deputy and combined this with his work at Barts until 1897 when he resigned from his London position and was appointed Professor of Pathology at Cambridge.
Bronze plaque in the entrance to The Pathology Laboratory in Tennis Court Road
At this time a more systematic and scientific approach was being adopted in medicine bringing together the work of hospitals with that of the new pathology and bacteriological  laboratories. Alfredo's deep and extensive knowledge of his subject together with his sharp analytical mind made him both a popular teacher and ideally suited to direct the work of the many research students in his Laboratory.  Amongst Alfredo's work his contributions to the study of tuberculosis in milk, and his investigation and theories on immunity to disease were particularly noteworthy.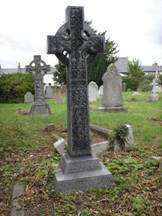 In 1895 Alfredo married Lucie Henstock from Liverpool and they set up home at 2 Huntingdon Road. He died on 21st December 1898 and after his funeral in the Chapel at King's College, where he had been a Fellow, he was interred at Histon Road Cemetery. After his death his wife donated funds in his memory to establish a library in the Pathology Department which still bears his name.
A17.394


With thanks to the Librarian at the Kanthack-Nuthall Library, Nature Pub. Jan 1899, The History of the Pathology Department UOC. , liverpoolmuseums.org ,  British Medical Journal Dec 1898
back to top