Graves
>
Cambridge Lives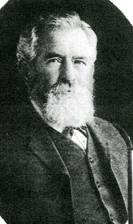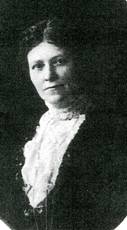 James Mitcham 1847 - 1915
Harriett Mitcham 1851 – 1923



A21.479
Although Mitcham's drapery store closed in 1977 the junction of Victoria Avenue and Chesterton Road is still known as Mitcham's Corner.
In the 1850s Abraham Mitcham, the first member of the family to go into trade opened a drapery business in Chatteris and naturally he encouraged his son, James, to also become a draper.
At the age of 18 after a five year apprenticeship James moved to London to pursue his own career in drapery.  In 1873 James married Harriett Nicholls, a tailoress and milliner. Together with another young couple they established a business in Ladbroke Grove. This business prospered providing James, Harriett and their 6 children with a comfortable life. However in the1880s when a disagreement between partners resulted in a collapse of the arrangement James returned to Chatteris where he ran a small general store. 
James was still an ambitious man and wanted to provide his younger children with a better education than he felt they could receive in Chatteris. He saw business potential in the expanding residential area of Chesterton recently connected to the town by the construction of a new bridge over the Cam and the opening of Victoria Avenue.
James was unable to raise the finance to acquire the necessary stock to open a drapery store so instead became a butcher.  His new shop was in a small premise to the side of the house he rented at 34 Chesterton Road.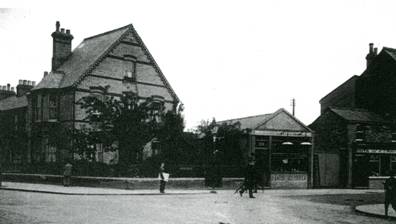 34 Chesterton Road around 1900, showing the fine garden and the Butcher's shop to the right of the house.
James and Harriett joined the recently established Victoria Road Congregational Church which they would attend and support for the rest of their lives. Harriett's expertise in millinery ensured that her Sunday hats were always admired !
In 1909 James' oldest son Charles, after several changes of job, returned to live with his parents. He was persuaded by his father to set up his own drapery business. The landlord of the property in Chesterton Road allowed them to clear the front garden and erect the single storey premises that still exist (though vacant) today.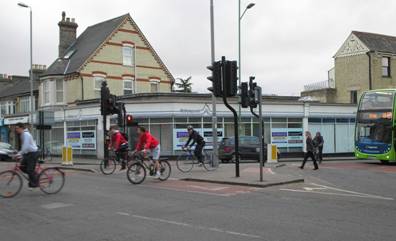 Mitcham's Corner – March 2010
With the help of his siblings, all of whom were involved in the retail trade, the new business was so successful that it expanded into the main house and adjoining premises. The family were obliged to move to a newly built home nearby in Milton Road. With their family around them James and Harriett lived there until their deaths in 1915 and 1923.
Sources : 'When Mitcham's had a corner' compiled by Andrew Brett based on the recollections of Nora Wolfe, great niece of James Mitcham.
back to top