Graves
>
Cambridge Lives
John Wiles   Stonemason  1812 – 1908

Henry Wiles   Sculptor   1838 – 1930

The Wiles family graves – John & wife Eliza on the left, Henry & wife Mary centre and Louisa, daughter of John & Eliza ; together with Louisa Gilbert, cousin of John on the right.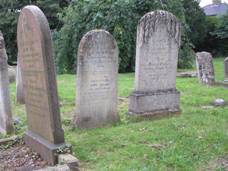 C14.281 C15.306/7
John Wiles was born at St David, Jamaica on 10th April 1812.
His uncle James, who had trained as a gardener, had settled in Jamaica after serving as botanist on Captain Bligh's second breadfruit expedition 1791-3 (the first had ended in the Mutiny on the Bounty). He had then persuaded two of his brothers to join him and seek their fortunes running coffee plantations.  One of these brothers was John's father.

In 1819 John was sent to England with two brothers and a sister to stay with their aunt Elizabeth Gilbert in Stamford and pursue their education. John became a stonemason and in 1831 sent his father 'a marble clock case and other examples of his work'.   John married in 1837 and about that time moved to Cambridge, possibly attracted by the opportunities of work for the Colleges. The 1881 census shows John as 'Statuary & General Master Mason. Employing 4 men & 1 boy'.  There are examples of his work in many Cambridge Cemeteries including Histon Road.
© Cambridgeshire Collection
John's first son Henry was born in 1838. He was educated at the Perse School, then still in Free School Lane.  He displayed an artistic talent and decided to become a sculptor. In 1869 he won a gold medal and travelling scholarship from the Royal Academy enabling him to study in Rome and Naples. Returning from his studies he married and set up a studio in London for a while before returning to Cambridge. It was at this time that artist Charles Brock (see Newsletter3) studied at Wiles' studio and drew this sketch of Henry.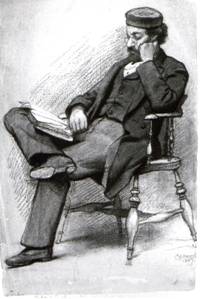 © Cambridgeshire Collection
Henry continued to live and work in Cambridge until his death at the great age of 91 in 1930. Amongst the works he produced is this bust of Benjamin Hall Kennedy  Regius Professor of Greek 1804 – 1889  which is now in the old library at St John's College.

Other works are in the collections of Trinity College and the Fitzwilliam Museum.
Image "By permission of the Master and Fellows of St John's College, Cambridge".
Henry Wiles is considered by the family to have begun 'the Wiles Dynasty of artists', his son W G Wiles became an eminent painter in South Africa and in turn two of his sons and four of his grandchildren have also become artists. The family website www.wgwiles.com gives fascinating details of all their careers.
Sources :   Chris Wiles at  wgwiles.com .  With thanks to Kathryn McKee St John's College Library.   Cambridge Evening News 12-08-1930.   Cambridgeshire Collection.
back to top