Graves
>
Cambridge Lives
The Bell Family – The first interment
Recorded as 'particularly noteworthy' in the Royal Commission on Historical Monuments 1959 this 'fine table-tomb in the 14th century Gothic style' commemorates twelve members of the Bell family. Edward and Charlotte Bell lived at Peas Hill in the centre of the town where he carried on business as a seed and corn merchant. The family home in Free School Lane still stands overlooking St Benet's Church.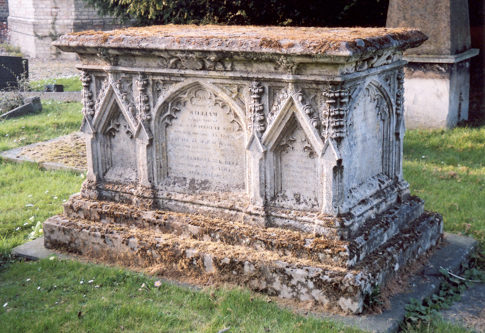 Their eldest son, William, was clerk to Richard Harwood, Land Surveyor of 77 Trumpington Street. He surveyed the open field between Histon and Victoria Roads prior to its purchase by the Cambridge General Cemetery Company in 1842.
Three plots were purchased for a substantial family vault and William was the first interment at the Cemetery on 24th November 1843. He is remembered by the inscription :
In memory of William eldest son of Edward and Charlotte Bell Who died Nov 19 1843 in the 21st Year of his age . He surveyed the ground and was the first to be interred herein.
The stone is now weathering badly and it is difficult to make out the inscriptions although it remains a fine memorial and is worth seeking out at A.3.42
An Australian Connection
In 1855, at the age of 18, Alice the youngest daughter of Edward and Charlotte married Charles Todd who was assistant to Professor Challis at Cambridge University Observatory. In the same year the couple set out for a new life in Australia. Charles, who became known as 'Telegraph Todd', was the planner and developer of the overland telegraph line stretching 2300 km from Post Augusta to Darwin. As work progressed through mostly unexplored country various features on the route were named : The Todd River, Charlotte Waters, after Charles' first born, and most well known Alice Springs, after his wife. In his role as Superintendent of Telegraphs and Government Astronomer he spent over 51 distinguished years in the service of the South Australian and Commonwealth Governments.

Charles & Alice Todd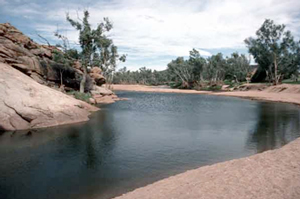 The Alice Spring
Edward Bell died in 1865 and it appears that by 1868 most of their nine children had sadly passed away. The memorial inscription to his widow Charlotte shows that she died in Adelaide , Southern Australia, on 29th January 1875 aged 75. We can only suppose that with little remaining family in England she undertook the long journey to Australia to spend her final years with Charles and Alice.