Tracing your family tree
Histon Road Cemetery was created as a 'Open' Cemetery to cater primarily for the non-conformist community in Cambridge but at the same time open to all. This means that those buried there came from all parts of the town. Researching our records : two valuable sources are now held at the Cambridgeshire Archive, Shire Hall, Cambridge.
Record of memorial inscriptions and locations with alphabetical index. Many of the inscriptions include family members who are buried elsewhere but 'remembered' here.
Burial Registers : All 8000+ interments are listed in date order with location and other details.
For further details and opening times contact:
Cambridge Archives
Can we help you?
The Friends group are happy to assist family researchers. We have a complete database of burials which we can search by family name. We also have an updated and amended version of the record of Memorial Inscriptions. If you contact us with as much information as you can then we will do our best to help.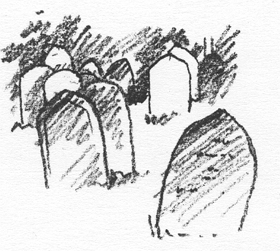 Locating the graves
The numbering used in the Burial Record does not relate to any existing plan. It seems to be inconsistent and unreliable. It is consequently very difficult to pinpoint the specific sites of the many unmarked graves. The Friends will do their best to advise you if you are searching for such a grave.
Those graves that are recorded in the list of Memorial Inscriptions have locations given on the existing Cemetery plan shown below. Again if you need assistance in finding a specific grave contact the Friends and we will do our best to help.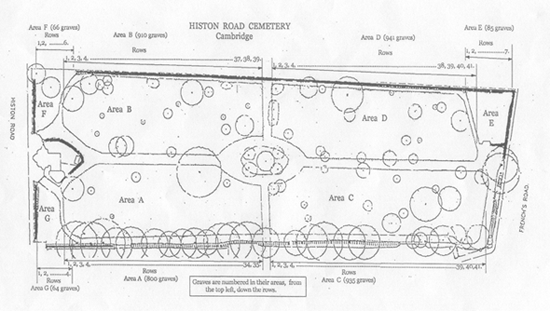 With reference to the plan the cemetery is divided into 7 'compartments' labelled A to G. Each of these is divided into vertical rows numbered from the top left. The plots are numbered consecutively within each compartment. Hence A.3.42 is Compartment A, Row 3 and is the 42nd plot in that compartment.
back to top